Home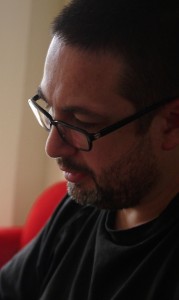 Darren Ambrose is a Senior Lecturer in the Department of Media, Art & Design at Canterbury Christ Church University (CCCU).
I have published widely in contemporary European philosophy, in particular the work of Emmanuel Levinas and Gilles Deleuze. My doctoral research consisted of a detailed comparative analysis of the role that scepticism plays in the work of G.W. Hegel and Emmanuel Levinas. After the completion of my PhD my work became more focused around contemporary art and film theory.
I have previously held academic positions at the University at Warwick and Birmingham City University. In my current academic role at CCCU I am a senior researcher, supervise PhDs and have academic responsibility for the Researcher Development Programme based in the Graduate School.
I am currently researching notions of nihilism, apocalypse and belief in contemporary cinema. This research will be published in 2012 by Zero Books as Film, Nihilism and the Restoration of Belief. Another major area of my research is the work of the 20th century painter Francis Bacon, with a particular emphasis upon analysing and understanding Deleuze's important 1981 philosophical study of his work. This research has led to a major collaboration with the Estate of Francis Bacon, and a planned monograph dedicated to Deleuze and Bacon to be published in 2012 as Counterparts: A Study of Gilles Deleuze & Francis Bacon.
As well as my philosophical research I am directing a collaborative film project entitled Kleist. This project utilises found photographs to explore notions of time, memory and narrative.
I continue to publish work on other artists, including Claire Morgan, Coil and Brian Clarke.